---

Home | What is Chronicles of Illusion? | Universes | Characters | Locations | Chapters | Music | Posters and Wallpapers | Trailers
---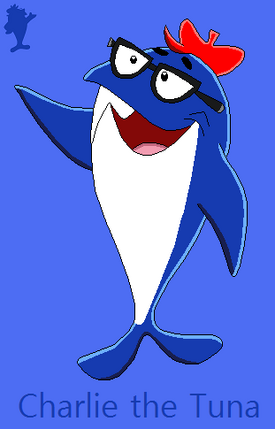 Universe: StarKist
Debut: "StarKist Presents Charlie the Tuna" (commercial, 1961)
Charlie is a blue anthropomorphic tuna fish wearing a Greek fisherman's hat and coke-bottle glasses. His goal is to be caught by the StarKist company as he believes that he is so hip and cultured that he has "good taste" and he is thus the perfect tuna for StarKist. Charlie is always rejected in the form of a note attached to a fish hook that says "Sorry, Charlie." The reason given for the rejection was that StarKist was not looking for tuna with good taste but rather for tuna that tasted good.
---
Trivia
Charlie is the first product mascot (and commercial character overall) to be added to Chronicles of Illusion.
In Chronicles of Illusion, the "Charlie" signature on the character's hat is left out.

It is also left out in the commercials.

In 2005 and 2012 respectively, Charlie, along with various other advertising and product mascots, appeared in the MasterCard commercial titled "Icons", and the feature film, FoodFight!.
---