---

Home | What is Chronicles of Illusion? | Universes | Characters | Locations | Chapters | Music | Posters and Wallpapers | Trailers
---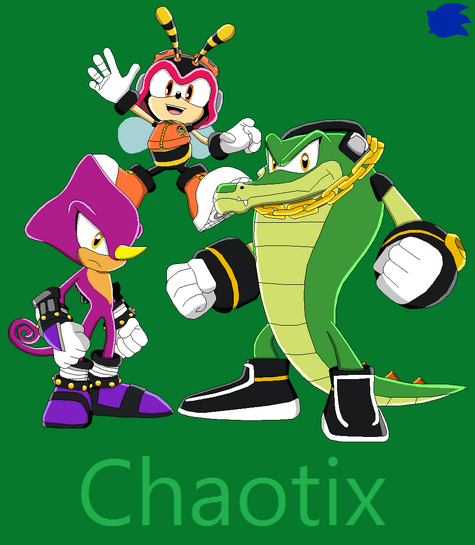 Universe: Sonic the Hedgehog
Debut: Knuckles' Chaotix (1995) / Sonic Heroes (JP, 2003; NA, 2004)
The Chaotix Detective Agency, also known as "Team Chaotix" or simply "Chaotix," are a trio of detectives-for-hire, consisting of Espio the Chameleon, Charmy Bee, and their leader, Vector the Crocodile. Though they're not involved in the ongoing world conflicts as often as Sonic the Hedgehog and his other allies are, they are nonetheless a formidable team despite their quirks and are always ready to provide aid to Sonic and his friends.
---
Trivia
In select Sonic games, Vector and Espio appear solo.
In the anime series, Sonic X, the Chaotix appear in a total of eight episodes.

The episode, "Chaotix Detective Agency" ("Defective Detectives" in the English dub), aired two days before the release of Sonic Heroes in Japan.

In the TV series, Sonic Boom, Vector appears in two episodes of the second season.
In the Mario & Sonic at the Olympic Games series, Vector appears as a playable character, while Espio and Charmy only appear as non-playable referees.

However, Espio would later be promoted to guest playable character in the Rio 2016 and Tokyo 2020 installments.
---
Want to know more about the Chaotix? Visit the website below.
---