---

Home | What is Chronicles of Illusion? | Universes | Characters | Locations | Chapters | Music | Posters and Wallpapers | Trailers
---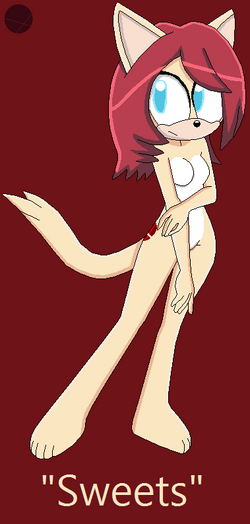 Universe: Chronicles of Illusion
Debut: Chronicles of Illusion - "Chapter 4: The Mysterious Cat Girl" (2013)
"Sweets" is a peach-yellow, ruby-haired female cat who is unable to speak, is suffering from amnesia and has a flashing, red two-cross circle on her right hip.
She was given her temporary name by Molly Ketty after getting rescued from Bankjob Beagle in Mouseton. It is unknown where she came from, what her real name is, or how she even got amnesia...
---
Trivia
The character's hairstyle and color scheme is based on Princess Elise from Sonic '06, and was created as the beautiful and sexy character, as opposed to the cute and sexy characters of Molly Ketty and Friends.
In January 2018, MollyKetty commissioned DeviantArt user, amyrose116, to make a picture of "Sweets". She stated that she really enjoyed drawing and painting the character.

MollyKetty would later commission the artist to draw out the character again in August 2020.
---